SPI Fishing Guides
Always-a-Catch proudly offers premier SPI fishing guides. Captain Dave Edwards offers 30 years of experience as a professional fishing guide and provides opportunities to enjoy the best fishing in the beautiful waters off of South Padre Island.  The Gulf of Mexico and the Laguna Madre Bay are known for their clean waters and offering prime fishing locations. People from across the country regularly travel to South Padre Island year round to enjoy the climate, natural beauty, clear waters, and premium fishing spots. Anglers of all skill levels are welcome to enjoy a guided fishing trip with one of the area's most accomplished and experienced captains leading the way.
South Padre Island offers a number of prime fishing spots and Always-a-Catch fishing guides will take you to the finest ones. Captain Dave knows when and where the fish are biting and will bring your group to the spot with the best chances of catching speckled trout, redfish, snook, and black drum. The beautiful, crystal clear waters make a South Padre fishing trip an amazing experience and our service makes it one you will never forget.
South Padre Island Fishing Guides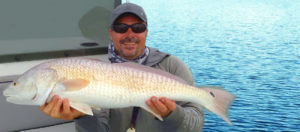 Captain Dave goes above and beyond for every guest and works to make sure you have a memorable SPI fishing trip. At Always-a-Catch we work hard to give you the best guided fishing experience possible. We provide all of the essentials to guarantee your group's success. Our crew provides you with rods and reels, bait and tackle, and life vests. All you need to do is bring your fishing license, sunscreen and sunglasses, towels, your favorite food and drinks, and your sense of adventure. Always-a-Catch will take you out on the water, find the best local spots for fishing, and guide your successful trip. We work with people of all skill levels, even those who are just learning to fish and make sure that every member of your party is having a wonderful time.
We welcome even the smallest fishermen and love having children join our SPI guided fishing trips. Captain Dave will help your little ones learn to love fishing and your whole family will feel comfortable and safe out on the clear waters of Laguna Madre Bay.
South Padre Fishing Guides
As an experienced South Padre fishing guide, Captain Dave will get to know your group and find out your skill levels, fishing experience, and desired outcome for your trip. If you want do some sightseeing and some fishing or just spend your day seeking out the prime angling spots, Captain Dave will shape your trip to ensure you get exactly what you want and have the most fun possible. You can spend a few hours enjoying the water and view, experience a half day of intense fishing action, or plan a whole day to do both. You can even book a stay at our private condos or other area hotel and make it a weekend. Once you go out on the water with Captain Dave, you'll be hooked and will want to spend as much time as possible enjoying our prime fishing. Always-a-Catch is proud to offer the premier South Padre fishing trips in the South Texas area.
Memorable fishing trips are just a phone call or email away. Book your trip online or reach out to us with any questions ahead of time and we will help to answer your questions and get you the best trip possible. We are your South Padre fishing guides and are here to help you have fun enjoying our premium South Texas fishing.
South Padre Fishing Trips
For guests looking for a fun fish and sleep combo, Always-a-Catch proudly offers two beautiful oceanfront condos. Whether you want to a stay near the beautiful white sand beaches, or reserve a combination luxury fishing trip and accommodations, Always-a-Catch has you covered. Steps from the beach and walking distance from all the local attractions, our beautiful, private condos are ready to provide the perfect weeknight or weekend getaway.
If you are looking for a fun, family trip to South Padre Island or some of the best fishing South Texas has to offer, Always-a-Catch Fishing Trips will offer you a memorable excursion. Book your reservation for a private South Padre Fishing Trip today and get ready for an exciting and unforgettable fishing adventure with Captain Dave and Always-a-Catch.