SPI Fishing Charters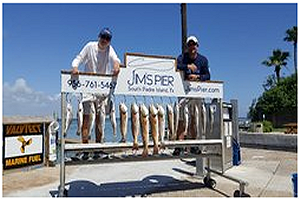 Always-a-Catch Fishing Trips is proud to offer private inshore SPI fishing charters in the beautiful waters of the Lower Laguna Madre Bay. Whether you are looking for a few hours out on the water or a full day of fishing, Captain Dave Edwards will make sure you have a fishing trip to remember. With over 30 years of fishing experience, Captain Dave offers once in a lifetime private charter experiences to experienced anglers, beginners, groups, families, and more. All are welcome to enjoy the bay and have fun catching the abundant speckled trout, redfish, snook, and black drum in the shallow clear waters off of South Padre Island.
If you're looking for the best way to experience the picturesque South Padre Island area, there's no better way to do it than with an experienced captain on your own private fishing charter. At Always-a-Catch Fishing Trips, we provide everything you need for a fun and memorable trip. Each trip includes rods and reels, bait and tackle, and life vests. Simply bring your fishing license, sunscreen, sunglasses, and your favorite food and drinks and you'll be ready for a fishing experience you won't soon forget.
South Padre Island Fishing Charters
A private South Padre Island fishing charter is the ultimate way to experience the best fishing spots in the bay. Captain Dave is your personal South Padre Island fishing expert. His decades of South Texas fishing experience give him the knowledge he needs to offer you a premier, first class fishing experience.  Let Captain Dave and SPI help you plan the perfect trip – whether it's a few hours on the water or a full day exploring the best fishing in South Texas, Always-a-Catch Fishing Trips will give you the fishing trip of a lifetime.
Captain Dave's personal service, intimate knowledge of the South Padre Island and Laguna Bay area, and his experience leading fishing charters of all sizes makes Always-a-Catch the premium choice for those seeking the best private charter in South Padre Island and South Texas.
South Padre Fishing Charters
The crystal clear waters off South Padre Island are not only some of the cleanest in the state, but also offer the best opportunities for prime fishing. South Padre has been consistently recognized as offering the finest fishing along the South Texas coast and it regularly attracts anglers from across the country looking to experience its pristine waters.
Anglers of all skill levels will find prime fishing spots throughout the area and Captain Dave will guide your group to the very best locations for an exciting fishing adventure. Whether you're an experienced pro or simply want a fun, family trip to introduce your kids to fishing, Captain Dave will make sure you have the best experience possible. A private fishing charter with Always -a-Catch Fishing Trips is the only way to truly see the beauty of the South Padre Island coast and experience the finest fishing in the south.
South Padre Island Fishing Trips
Captain Dave and Always-a-Catch Fishing Trips offer the finest fishing experiences, sightseeing along the coast, a fun day on the water, and guided fishing with an experienced angler. We are proud to offer the very best South Padre Island fishing trips and private charters for groups of all experience levels. If you're looking for a memorable trip with truly personal service, then look no further than Always-a-Catch. With Captain Dave, our fishing trips are customized to meet your group's needs and children are always welcome. We want every member of your party to have a wonderful time out in the bay.
Always-a-Catch also offers prime ocean front accommodations in two beautiful South Padre Island condos. Steps away from white sand beaches and the sparkling waters of the Gulf of Mexico, our condos can be paired with private fishing trips for a luxury fish and sleep trip package.
Whether you want a few hours of fun on the water with your family, a full day or weekend of expertly guided fishing, or a combination of fishing and beach front accommodations, Always-a-Catch will ensure you have the time of your life.
Book your reservation for a private SPI fishing charter today and get ready for an exciting and unforgettable fishing adventure with Always-a-Catch.