Fishing Report 06/21/2023
South Padre Island,TX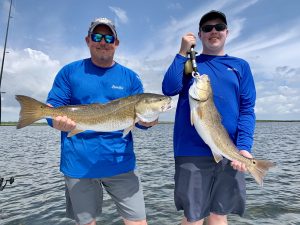 Capt. Dave Edwards 956-524-3002.  Summer fishing is in full swing as is the heat down here in South Padre Island. As of this writing we are having windy conditions and record heat. The Black drum bite has been good as they move into the channels to spawn. Trout are still good but have slowed since mid May when we released 16 trout over 27 inches. Good sight to see! Our trout limits will stay at 3 per angler Per day until August 31st, 2023 when TPWD does their review to see If our waters have recovered since the 02/21 freeze. They will then decide if they can re-establish the 5 per person daily bag limit.
 Currently live bait is working in deeper off colored waters for the specks when the wind isn't blowing too hard. Corks with an 18 " to 24" fluorocarbon leader and a ¼ oz jig head with your favorite plastics are working well in the deep grass. We aren't popping the corks too aggressively. Make sure that cork gets deep.  Small jerk shads on a ¼ oz jighead without corks are also working well, just bounce it off the deeper weed beds. Almost all the trout we are catching are in over 3ft of green colored or dirty colored water. North end of the Causeway, the Pasture, edges of the ICW, west of Green Island and the mouth of the Arroyo are all areas holding keeper trout right now and will continue to as the summer progresses.
The red fishing has picked up as some of the huge schools located around the jetties in late May have made their way into the bay.  The reds are following the finger mullet that are hiding in dirty to off colored water. High tides are working best for my guests as we are still finding good numbers in two feet or less of water. Don't dismiss the deeper chocolate colored waters as that will be an area that will also be holding.  Live bait and any imitation mullet baits are working. Windy days are working the best for us.  Calm days it seems like it is a grind on the reds.  Make sure you keep well hydrated on the waters and bring plenty of sunscreen. Good fishing to all!
 Capt. Dave Edwards