Fishing Report 11/26/2018
South Padre Island, TX
Reds, Reds and more Reds!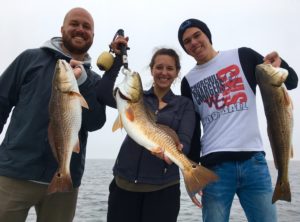 The bite has been extraordinary for my clients this fall.  Over 15 Red fish a trip has not been uncommon. Why such a great bite?  Well there is very little fishing pressure on the waters this time of year so the reds are getting comfortable in the shallow flats.  Cooler water has convinced the Reds to pod up.  Pods of 6 to 50 fish can be seen as they chase bait and work the bottoms for crab and shell.  The worse the weather the better the bite has been. Once high pressure moves in and the winds die off so does the bite.  Those that fish with me know that the next five months will be the best for the BIG reds.
With the unseasonable cooler weather our speckled trout bite has not been that great.  Trout seem to shut down during really cold periods. Once we get a few warm days the big gators come out to feed. Look in dirty to off colored water adjacent to clear shallow grass flats.   The black drum are still around, live or dead shrimp is the ticket.  The snook bite has been good in the ship channel.  Look for structure, rocks, drop offs, pilings and you should find them. This time of year our water temperatures can be 10-15 degrees below the mainland temperature. It's wise not to wear shorts. Bring a sweatshirt and a jacket with you.  Enjoy this time of year as some of the best fishing is here!